New Product Groups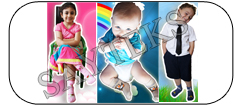 3D Kid's Socks
We offer fun and colorful models for our kid's socks, which are designed with 3D technology.
Click here to see our 3D Kid's Socks.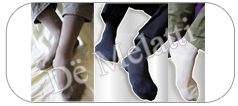 Compression Socks Models for Men
Compression Socks are designed to prevent squeezing, so people can wear them comfortably. The structure of cotton and stylish models Melatti products do not affect blood circulation in your leg.

Why SayTeks?
Basic features of our brands (Sayim and De melatti):
Strong heel and noise structure
3D models
Non-allergic
What is Anti-Bacterial and Scented Socks?
 
The construction of fabric and, thanks to your latest technology that allow us to add high-quality textile as an extra skin that makes smell is completely and suitable. Our products are superior quality products for your appropriate foot health.
About Us

Our company, SayTeks Inc. was founded in 1986 as a sole proprietorship. We extended our products line to include new and innovative styles and colors to keep pace with the expanding global market demands since we incorporated our company in 2000. Today, we manufacture and export a wide range of socks that are manufactured from quality material and are tested on various quality parameters before our socks are delivered to our clients. Currently, our manufacture is located in Rami / Bayrampasa, Istanbul   and selling store in Laleli, Istanbul Turkey.
  We offer socks in various sizes, colors, and customized specifications for our clients benefit. We also specialize in
3D
Baby Socks include the following: 
3D kid's pantyhose socks, and 3D kid's ankle socks and non-slip booties socks.
In addition, seamless men's socks are made by 200 pins-technology machines, Coton-Modal-producing bamboo and mercerized socks. A unique scent feature of our silicone and Anti-bacterial socks is not removing as they are washed.